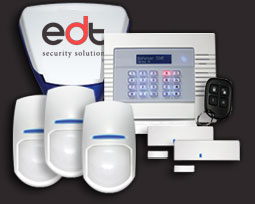 Premier Plus Alarm System

£399 inc VAT
The Premier Plus System offers the ultimate in home protection. This wireless alarm includes a compact control panel with a wide range of easy-to-use features. The Premier Plus System is wireless which makes it ideal if you would prefer to keep unsightly wires and disruption to a minimum.
Flooring and fittings can be left intact and installation of the Premier Plus takes just a couple of hours. The Premier Plus System includes an illuminated bell box to provide a highly visible deterrent to potential intruders. The Premier Plus System is also equipped with 3 x Premier Plus PIR detectors, 2 x Premier Plus door contacts and a Premier Plus remote fob.
| | | |
| --- | --- | --- |
| | 1 x Premier Plus+ control panel* | This can be located near your entry door |
| | 3 x Premier Plus+ PIR detectors | These are used to protect areas such as your lounge, kitchen, landing etc. |
| | 2 x Premier Plus+ door contacts | These are fitted to you doors to protect the main entry route. |
| | 1 x Premier Plus+ remote fob | Allows the system to be set and unset. It also includes a built in panic button. |
| | 1 x Premier Plus+ sounder box | This is a wired illuminated bell box. Wireless Sounder Boxes and Decoy Sounder Boxes are available if needed. |
Additional Premier WS Features
 

 

Full House
When leaving the property you simply press the button and and leave. Once all the zones are clear the system will set. You can also use your remote fob.
Half House
The system will automatically recognise if you are performing a full house or a half house set, depending on which exit route has been taken - either the front door or upstairs.
Remote Fob
The remote fob allows you to set and unset the alarm from a remote position as well as sounding the alarm via a built in panic button. It will also show you the status of your alarm panel.
Chime
Zones with door contacts attached can be programmed to chime when the system is unset. This means if you leave a door unlocked and someone tries to enter, the control panel will make a tone to alert you.
Zones
The control panel can take up to 32 different zones or devices. These can be alarm, fire, smoke detectors or panic alarms.
User Codes
Multiple codes and fobs can be used which can be programmed to your needs.
LCD Menu
The control panel is fully menu driven making it easy to use, which makes this panel very user friendly.
Energy Efficient
The control panel preserves battery power of each device meaning you don't have to change the batteries all the time!