Why choose edt?
Free initial consultation and design service
Expert advice from experienced edt Security specialists
Professional installation from highly trained engineers
24 hour help desk support and emergency call out
Comprehensive maintenance and warranty contracts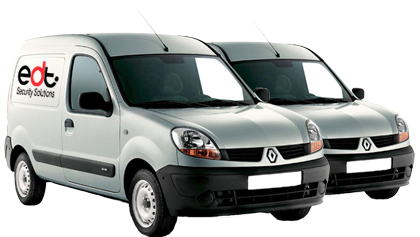 Testimonials
As a Design Agency during the course of our day we come into contact with a large cross section of people who sometimes have the need of security service and consultation. Integer Design and I personally need to be confident in the person or the firm to whom we recommend our clients or personal contacts as if the service provided is unsatisfactory our clients or contacts will be unimpressed with the referral and this would adversely affect our relationship with them.

My family have recently moved house and discovered on moving in that the security alarm that is fitted to the property, although seemingly working, was not usable as there was no information supplied by the previous owner. It turned out he had never used it either as he did not have the operation details (codes etc.)

As I had sorted out the insurance on the basis of having a fully operational and serviced alarm on the property I asked Dave to help me solve this problem.

We organised a time for Dave to visit and carry out his assessment and repair. He was on time, courteous and professional. The alarm now is in full working order. We have a certificate for our insurance and his advice as to how we could improve the security of the property.


His service was excellent. We know he will do a professional job which will cost a fair price for the work.
I can therefore without hesitation recommend Dave Tilford to members of this group when the have any clients or contacts that need help with security systems on their property.

William Jones
Graphic Designer
As a busy financial adviser it is important to me to use the services of trades people and service providers who can deliver their services in a timely and professional manner.
My need to upgrade our existing home alarm system was complicated by making some structural changes to our home and the fact that we have 4 cats that have free reign throughout the house. We asked Dave to come and give us his suggestions to upgrade the system and address the issues that we had.
Dave was able to call and see us at home in the evening, which we particularly appreciated, and took his time to discuss our requirements and provide us with his experience and suggestions to address our needs. Dave was able to price the whole job within our budget and this included specific Pet Sensors to deal with the cats.
We had a tight schedule of work being undertaken on the property and Dave was able to co-ordinate attending around the other trades suppliers. He even concluded the job over a weekend which we were particularly appreciative of.
Dave's work has been first class, turning an antiquated alarm system into a state of the art home security system that fits our family's needs in a very timely and cost effective way.
I have no hesitation in recommending him to my clients, colleagues and friends.
Robert Cresswell
Director
We have had the usual burglar alarms now for several years but felt we needed something extra. As luck would have it Brendan was introduced to David T|lford of EDT Security through the BNI and after a few discussions we decided to go with his company and update our security system.
We decided on having two cameras installed and David did the work himself. I found him to be most polite and nothing was too much trouble. He was very helpful and I feel he did an excellent job.
A couple of weeks after the cameras were installed I wanted one of them to be moved to a different area. David came back on a Saturday morning and moved it for me. No Problem.
With Brendan working away a few days a month, I now feel a lot more secure in the home knowing there is a reliable system installed.
I would not hesitate in recommendin David Tilford of EDT Security to anyone wanting to feel safe in their home.
Ann Redman [Mrs]
I recently asked Dave of EDT security to carry out an inspection of a fire damaged alarm system, followed by a replacement of any faulty parts.
Dave arranged directly with the customer when he would attend and arrived at the agreed time. He carried out the works in a timely, tidy and professional manner.
It was really important to me that this happened as I felt with subcontractors used on the job that they represent me, and my reputation with the customer who had previously visited BNI. Dave received excellent feedback from the customer who was delighted - he even fixed an existing problem at his expense.
I would have no problems recommending EDT Security to other clients and using him in future.
Andrew Willis
Willis Domestic Building
As a self-employed Consultant Solicitor working with lson Harrison Solicitors, which is a larger practice of solicitors based in Leeds City Centre and with other offices in Chapeltown, Crossgates and Garforth with 20 partners and some 100 staff, I sometimes come across people who need alarm services. Ison
Harrison and I personally need to be confident in the person or firm to whom we recommend our clients or personal contacts as if the service provided is unsatisfactory our client or contact will be unimpressed with the referral and this will adversely affect our future relationship with them.
Around the time that I moved into my new home I asked Dave to contact my husband to discuss with him the maintenance and service of the alarm at the property and its upgrade to include provision for our rather large dog, Sheba2.
Dave arranged to see David promptly and as arranged. He was really helpful and very professional providing very sound and sensible advice as to how to change things to better suit our circumstances and to improve the security afforded by the alarm. His charges were reasonable and we were impressed with the prompt and efficient but friendly service.
Since then Dave has provided some further pieces of advice in relation to the operation of the system without charge and this has increased David's trust in him and his services and David has now asked me to arrange for Dave to put in place a formal maintenance contract for the alarm.
In providing this excellent service to David and me, Dave has proved his worth and this will make it easy for me to recommend his services to my contacts, clients and friends who may need alarm systems in the future. I have already spoken to one friend about the need for an alarm and the trusted service we received from Dave, as she has just been burgled and I hope that she might decide to speak to him in due course.
I can therefore, without hesitation recommend Dave to the members of this group for when they have clients or contacts of their own that need alarm and security services.
Christina Morley
Consultant Solicitor