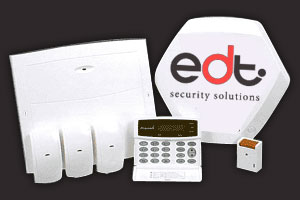 Gold Alarm System

£599 inc VAT
The Gold System is one of the very best alarm systems on the market and offers first class alarm protection for larger properties or business premises.
As with the Silver System, the Gold includes a small key pad which should be installed next to your main entry point and a larger box to be hidden out of sight.
The Gold System offers superior flexibility with the ability to create as many zones as you need – from 8 up to 88. Additional equipment is also available for use with the Gold System including zone expanders, proximity readers and flush key pads. The complete system includes: a Gold 24 Control Panel, a Gold LCD Key Pad, 3 x Texecom Prestige PIRs, 2 x surface door contacts, a panic button, a Texecom Odyssey 3e bell box, a decoy bell box and a 7.0ah battery back-up.
| | | |
| --- | --- | --- |
| | 1 x Gold 24 Control Panel | This is located out of site in an airing cupboard, loft space etc. |
| | 1 x Gold LCD Key Pad | This is located near your entry point for convenient use. |
| | 3 x Texecom Prestige PIRs | These are used to protect areas such as lounge, kitchen and landing etc. |
| | 2 x Surface Door Contacts | These are fitted to your external doors (Restrictions Apply). |
| | 1 x Panic Button | Protects you and your family even when the alarm is unset. |
| | 1 x Texecom Odyssey 3e bell box | This is a 109dB Polycarbonate bell box complete with it's own strobe and battery back-up. |
| | 1 x Decoy Bell Box | This is located externally, usually to the rear of the property (not shown). |
| | 1 x 7.0ah Battery Back-Up | This will normally run the system for up to 24 hours. |
Additional Features
| | | |
| --- | --- | --- |
| | Full Set | When leaving the property you simply press the 'AREA' button and leave. Once all the zones are clear the system will set and the blue strobe will flash several times to confirm. |
| | Part Set 1 | By pressing the 'PART' button the system will automatically set for night time. this can omit zones that would otherwise trigger whilst in bed, i.e. landing PIRs, bedroom PIRs etc. |
| | Part Set 2 | By pressing the '2' then 'PART' buttons the system will automatically set for a 2nd pre-determined setting. This would normally be used to arm doors/windows while allowing the occupant to walk freely around the property. |
| | Panic Button | Whilst the alarm is set or unset you can activate the siren via the panic button. this would normally be installed in a bedroom or by the front door. |
| | Auto Reset | If your alarm triggers it will ring for approximately 10 minutes. After this period it will reset and re-arm. |
| | Chime | Zones with door contacts attached can be programmed to chime when the system is unset. This means if you have left the door unlocked and someone tries to enter, the control panel will give a double beep to alert you. |