Why choose edt?
Free initial consultation and design service
Expert advice from experienced edt Security specialists
Professional installation from highly trained engineers
24 hour help desk support and emergency call out
Comprehensive maintenance and warranty contracts
Welcome to edt Security Solutions
We Design, Install, Maintain and Upgrade Intruder alarm, CCTV and Access control systems in Domestic and Commercial premises across the North of England.
To make sure you get the right security system for your needs, and not a one size fits all package email us or call 01274 551520 now to arrange your FREE, NO OBLIGATION SECURITY SURVEY.
CCTV Otley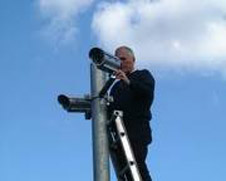 Whilst security cameras may seem excessive in order to protect your home, there is no doubt that their presence alone can have a huge impact on whether or not your home is burgled. There is no doubt that criminals are far more likely to attack a property that doesn't have a security system installed, than one that does.
Security cameras may seem excessive for home protection, yet their presence can have a major impact on whether your home is burgled. The knowledge that a home has CCTV cameras can easily convince a thief to go elsewhere, because the threat of being caught becomes too great. Not only will authorities likely be notified quickly, but there will be visual evidence of the intruder. Thus, if you want the most effective CCTV Otley has to offer, turn to EDT Security Solutions.
We provide a range of security systems for both domestic and commercial use. By carefully mixing and matching various components, we can design the ideal alarm system for your specific needs. Alarms, motion detectors, security lighting and a broad selection of security cameras and recording equipment are just some of what we can provide.
Since 2005, EDT Security has been serving the North of England and helping customers to install the most cost efficient and effective CCTV Otley has at its disposal. We offer a free, no-obligation security survey of your premises, helping us to help you to make your property as secure as possible.
Often, the simple presence of a camera can act as a deterrent. When it comes to CCTV options, there are many choices to suit your needs and location. For some homes and businesses, a fixed camera may be more than enough. For others, cameras that can tilt, zoom and pan may better serve their purposes. Other options include joystick-controlled cameras, high-speed dome cameras, and cameras with low-light capabilities, as well as multi-image viewing.
As part of our initial security survey, our trained experts will determine the most beneficial locations for both the security panel and the cameras themselves. The proper positioning of the cameras should never be underestimated since it is essential that you have a clear view of all vulnerable areas.
Here at EDT, our fully trained staff will schedule your installation at a time that is most convenient to you. We appreciate and understand that your time holds a value and that an installation during normal working hours might simply not be convenient. If this means visiting your home or place of work after business hours or on weekends to take care of the installation, then so be it.
Your premises, type of security system required and personal needs will all play a huge part in the type of system that you have installed and at EDT, we provide both wired and wireless security systems, dependent upon these requirements. Contrary to popular belief, wireless systems cannot be interfered with by any other signals such as mobile phones and our fully trained engineers can even integrate the cameras and digital recorders with your LAN or WAN so that you can view your home or property over the internet when you are absent from the premises.
We offer exceptional service that goes beyond simple installation. When you choose our service, you receive a full installation of the CCTV systems, as well as servicing. This includes digital video recorders, IP camera installation, network video recorders, covert CCTV systems, and remote viewing access, including via mobile phones. Baxall, Samsung, Pelco, Vista, and Dedicated Micros are just some of the CCTV systems we are able to provide.
When searching for the most comprehensive CCTV Otley has to offer, you can be confident in your choice of EDT Security Solutions. We provide an extensive selection of viewing and recording features that allow you to watch in real time or time lapse, and record as you need, thus ensuring the safety and security of your property.