Why choose edt?
Free initial consultation and design service
Expert advice from experienced edt Security specialists
Professional installation from highly trained engineers
24 hour help desk support and emergency call out
Comprehensive maintenance and warranty contracts
Welcome to edt Security Solutions
We Design, Install, Maintain and Upgrade Intruder alarm, CCTV and Access control systems in Domestic and Commercial premises across the North of England.
To make sure you get the right security system for your needs, and not a one size fits all package email us or call 01274 551520 now to arrange your FREE, NO OBLIGATION SECURITY SURVEY.
CCTV Systems Kirkstall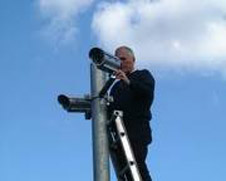 In the effort to protect your home or business, Closed Circuit Television (CCTV) systems are growing in popularity. They are rapidly becoming a part of everyday life and an effective weapon in the fight against crime.
With in excess of 2.5 million CCTV cameras monitoring everything from cash machines to shopping centres, the UK is quite possibly the most watched country in the world. And whilst privacy might be an issue for some, CCTV systems are proven to prevent crime and are here to stay.
If you are looking to foster a feeling of security, consider choosing EDT for some of the best CCTV systems Kirkstall has on the market. The threat of being caught on camera is a very real deterrent to criminals. Therefore, installing a system within your home or workplace just makes sense. Best of all, it may not be as expensive as you think.
Any property with a security system installed is generally avoided by would-be intruders. They are more inclined to choose a site that is less secure and with less risk of being caught. Why take the risk of attempting a burglary when you know you are likely to be filmed? Even if someone is daring enough to break into a home with CCTV installed, they are much more likely to be captured and prosecuted thanks to the high quality recordings that these home security systems provide.
No one wants to experience the sense of person invasion that a home burglary produces. Fortunately, you can turn to the most secure CCTV systems Kirkstall offers to help you feel more comfortable in your ability to protect yourself. Even if you do fall foul of a thief, you can enjoy the satisfaction of knowing that your home security system has helped to catch and prosecute the offenders.
Statistically speaking, the major reductions in crime committed where cameras are installed speaks for itself and CCTV systems Kirkstall offers an increasingly popular, cost-effective method of protecting your home and external areas such as driveways from the risk of intrusion or burglary.
When choosing from the various CCTV systems Kirkstall has to offer; by opting for an EDT system you can be confident that taking a proactive stance will go a long way in preventing you and your family from becoming victims of crime. Potential burglars and thieves will almost certainly move on to another property when they realise that you have taken advantage of such an effective crime deterrent.
CCTV has the added benefit of providing an extra level of security for elderly or vulnerable people living alone. It will provide them with the ability to see who is at the door before opening it to a potential criminal. This gives people peace of mind and the ability to feel safe in their home.
Here at EDT Security, we can provide you with the finest CCTV systems Kirkstall has available and will help you to protect your home to the best of your ability. Our CCTV systems protect your home with a visible and effective deterrent against all manner of crimes and we can even provide you with the equipment and software to view your property remotely over the Internet (to include your mobile phone) in order that you can keep an eye on what is going on, even in your absence.
With the use of CCTV, people feel safer and less fearful, secure in the knowledge that the cameras provide a useful deterrent to criminals. Because criminals are less likely to attack in areas where cameras are visible, homeowners can gain invaluable peace of mind that their loved ones and their property are safe and sound.