Why choose edt?
Free initial consultation and design service
Expert advice from experienced edt Security specialists
Professional installation from highly trained engineers
24 hour help desk support and emergency call out
Comprehensive maintenance and warranty contracts
Welcome to edt Security Solutions
We Design, Install, Maintain and Upgrade Intruder alarm, CCTV and Access control systems in Domestic and Commercial premises across the North of England.
To make sure you get the right security system for your needs, and not a one size fits all package email us or call 01274 551520 now to arrange your FREE, NO OBLIGATION SECURITY SURVEY.
Burglar alarms Pool-In-Wharfedale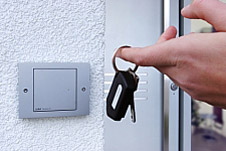 Regardless of where your home or office is located, there will always be a risk of burglary and so taking precautions to reduce this risk is a sensible move and the primary reason that people will employ the services of a security firm. When considering burglar alarms Pool-in-Wharfedale has at its disposal, EDT Security Solutions can visit your home or place of work and advise you on the type of alarm to best suit your individual requirements.
2EDT Security Solutions provide security alarm systems for both domestic and commercial premises and since 2005; we have served numerous establishments throughout the North of England. From simple domestic alarm installations to extensive commercial alarms and CCTV, you can rely on us to design the right security system to suit your specific needs.
Here at EDT, we provide a fully comprehensive, free, no-obligation security survey where one of the specialist members of our team will visit your property and discuss your specific needs and assess the most suitable security measures to best protect your premises.
By carefully inspecting your property and taking into consideration any vulnerable areas, as well as the day-to-day usage of the building, our experts can ascertain and design the best possible burglar alarms Pool-in-Wharfedale has available to complement your specific property, location and requirements.
It can seem rather daunting when considering the type of alarm system that you should have installed and our team at EDT can explain all pros and cons for each type of system and advise on what would suit you and your property best. Motion sensors can be an excellent way to provide an added level of security, particularly in circumstances such as an office that should sit empty overnight and therefore won't be subject to false alarms.
Concerned about unsightly wires in your home? No problem. Here at EDT, we can offer both wired and wireless security systems to ensure that whatever alarm system you choose is as unobtrusive as possible, whilst maintaining convenient access as required. Additionally, whilst many homeowners may not require the installation of CCTV, we can advise and install for all manner of businesses from retail to warehousing establishments.
In addition, we will work around your schedule when it comes to installation and maintenance. For many homeowners, that means we will be happy to install or repair your system on the weekend, when it is easier for you to be home. We provide this service to commercial clients, as well, working with them to find the best time for us to work so that their work is not disrupted.
EDT Security Solutions offer, without doubt, the most reliable and efficient burglar alarms Pool-in-Wharfedale has available and the service that you can expect goes way beyond the installation stage. We provide 24-hour support and an emergency call-out service, not to mention fully comprehensive maintenance and warranty contracts to ensure that faults are kept to an absolute minimum to guarantee your safety at all times.
We don't just install security systems. We work hard to fully understand how the police service works, in order to provide the best response. We also strive to fully understand related legislation so that you can feel confident in the burglar alarm choices you make. Our experts are available to answer any of your questions and help you find the right security for your needs.