Why choose edt?
Free initial consultation and design service
Expert advice from experienced edt Security specialists
Professional installation from highly trained engineers
24 hour help desk support and emergency call out
Comprehensive maintenance and warranty contracts
Welcome to edt Security Solutions
We Design, Install, Maintain and Upgrade Intruder alarm, CCTV and Access control systems in Domestic and Commercial premises across the North of England.
To make sure you get the right security system for your needs, and not a one size fits all package email us or call 01274 551520 now to arrange your FREE, NO OBLIGATION SECURITY SURVEY.
Burglar Alarms In Bingley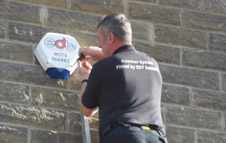 There are numerous reasons why a person will choose a security system for their home or office and it is important to remember that regardless of where your property is located, there will always be a risk of burglary. By investigating what types of burglar alarms Bingley has available, you will remain one step ahead of thieves and prevent your premises from becoming the victim of any unwelcome break-ins.
At EDT Security Solutions, we provide burglar alarm systems for both home and office. Since 2005, we have been serving the North of England, helping to provide security and peace of mind. From simple home installations to extensive commercial alarms and CCTV, you can count on us to design the right security system for your specific needs.
Here at EDT, we invite you to take advantage of our free consultation and no obligation survey to assess the best type of security system to suit your individual requirements. Our fully-trained staff can advise on all matter of queries that you may have and design the most appropriate system to guarantee the safety of not only your possessions, but also your family or staff at all times.
Our highly trained security experts will give your home or office a careful inspection, taking into consideration any potential areas of ingress, as well as the day-to-day uses of the building. We can help you decide the appropriate system for your price range and security needs. If you are looking for security experts who can provide the best burglar alarms Bingley offers, we at EDT Security Solutions are the ideal choice.
Not every system suits all homes or offices. Motion sensors can provide an added level of security, but if you have a home with pets, this option may not work as well as it would in an office that stands empty at night. Similarly, most homeowners may not choose the CCTV option, whereas cameras can be of great use to a variety of businesses, from retail to warehousing and much more.
Because we provide both wired and wireless security options, we can guarantee the most effective, yet unobtrusive system as possible and will factor in any particular requirements that we deem to be essential. Such factors could include motion sensors or CCTV recording options where applicable.
Many homeowners will not want workmen that they don't know in their home when they aren't there and here at EDT, our team will work in accordance with your schedule and even carry out installations during evenings or weekends if preferred. Likewise, this service is extended to include commercial clients who would prefer the installation to take place out of hours to ensure the least possible inconvenience and business disruption as possible.
When investigating the security options available to you and the best possible burglar alarms Bingley can give you, EDT Security Solutions is undoubtedly a serious contender and don't take our word for it ? our reputation clearly speaks for itself. Offering a fully comprehensive 24-hour customer support and emergency callout service, not to mention detailed maintenance and warranty contracts to ensure that your alarm is always fully functionable, EDT go that one step further to ensure that their customers and their security is top of the list.
Here at EDT, we pride ourselves on our customer service and reputation and continually strive to improve the service and expertise that we can provide. As such, with legislation continually changing, all of our team regularly undergo training regimes to ensure that they are completely up-to-date with any new regulations and are able to answer any of the questions or concerns that you might have.