Why choose edt?
Free initial consultation and design service
Expert advice from experienced edt Security specialists
Professional installation from highly trained engineers
24 hour help desk support and emergency call out
Comprehensive maintenance and warranty contracts
Welcome to edt Security Solutions
We Design, Install, Maintain and Upgrade Intruder alarm, CCTV and Access control systems in Domestic and Commercial premises across the North of England.
To make sure you get the right security system for your needs, and not a one size fits all package email us or call 01274 551520 now to arrange your FREE, NO OBLIGATION SECURITY SURVEY.
Burglar Alarms Garforth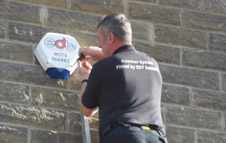 There are many reasons to choose an alarm system for your home or office. For many people, the added security for their family or employees plays a big role. However, the primary reason people install an alarm is to prevent theft. No matter where your home or office is located, there is always the possibility of burglary, so it is wise to take steps to reduce the risk. If you are considering the addition of burglar alarms Garforth, home of EDT Security Solutions, is a great place to be.
2EDT Security Solutions provide security alarm systems for both domestic and commercial premises and since 2005; we have served numerous establishments throughout the North of England. From simple domestic alarm installations to extensive commercial alarms and CCTV, you can rely on us to design the right security system to suit your specific needs.
Here at EDT, we provide a fully comprehensive, free, no-obligation security survey where one of the specialist members of our team will visit your property and discuss your specific needs and assess the most suitable security measures to best protect your premises.
Our highly trained security experts will give your home or office a careful inspection, taking into consideration any potential areas of ingress, as well as the day-to-day uses of the building. We can help you decide the appropriate system for your price range and security needs. If you are looking for security experts who can provide the best burglar alarms Garforth offers, we at EDT Security Solutions are the ideal choice.
Not every system suits all homes or offices. Motion sensors can provide an added level of security, but if you have a home with pets, this option may not work as well as it would in an office that stands empty at night. Similarly, most homeowners may not choose the CCTV option, whereas cameras can be of great use to a variety of businesses, from retail to warehousing and much more.
Concerned about unsightly wires in your home? No problem. Here at EDT, we can offer both wired and wireless security systems to ensure that whatever alarm system you choose is as unobtrusive as possible, whilst maintaining convenient access as required. Additionally, whilst many homeowners may not require the installation of CCTV, we can advise and install for all manner of businesses from retail to warehousing establishments.
In addition, we will work around your schedule when it comes to installation and maintenance. For many homeowners, that means we will be happy to install or repair your system on the weekend, when it is easier for you to be home. We provide this service to commercial clients, as well, working with them to find the best time for us to work so that their work is not disrupted.
When investigating the security options available to you and the best possible burglar alarms Garforth can give you, EDT Security Solutions is undoubtedly a serious contender and don't take our word for it ? our reputation clearly speaks for itself. Offering a fully comprehensive 24-hour customer support and emergency callout service, not to mention detailed maintenance and warranty contracts to ensure that your alarm is always fully functionable, EDT go that one step further to ensure that their customers and their security is top of the list.
We don't just install security systems. We work hard to fully understand how the police service works, in order to provide the best response. We also strive to fully understand related legislation so that you can feel confident in the burglar alarm choices you make. Our experts are available to answer any of your questions and help you find the right security for your needs.