Why choose edt?
Free initial consultation and design service
Expert advice from experienced edt Security specialists
Professional installation from highly trained engineers
24 hour help desk support and emergency call out
Comprehensive maintenance and warranty contracts
Welcome to edt Security Solutions
We Design, Install, Maintain and Upgrade Intruder alarm, CCTV and Access control systems in Domestic and Commercial premises across the North of England.
To make sure you get the right security system for your needs, and not a one size fits all package email us or call 01274 551520 now to arrange your FREE, NO OBLIGATION SECURITY SURVEY.
Burglar Alarms In Skipton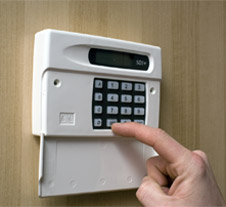 Knowing whom to trust when selecting burglar alarms in Skipton needn't be as difficult as you might think. At EDT we know that if you are armed with the appropriate knowledge, you can make an informed choice and protect your most expensive and valuable possession ? not to mention its contents, which might not always hold financial value, but will almost certainly always hold emotional value.
As suppliers of the most reliable burglar alarms in Skipton, we know that alarms are becoming increasingly popular and will protect your home from intruders by either deterring them in the first place or interrupting any unwelcome break-ins, hopefully ensuring the least possible damage and loss of possessions as possible. They will also provide you with complete peace of mind when you are away from your home, safe in the knowledge that you have done everything possible to protect it in your absence.
A property that doesn't have a security system installed is much more prone to attack than one that does. After all, thieves don't want to increase their risk of getting caught. Despite how it may feel at the time, a home burglary isn't personal. It's purely a matter of criminals choosing the easiest target.
Among the many benefits of installing burglar alarms in Skipton is the peace of mind you can have at all times, including when you must leave your home for long periods of time. Gone is the worry about a lack of security and unwanted break-ins. Furthermore, you may even be able to benefit from a discount on your home insurance premium, due to the fact that your home is no longer an attractive target of thieves.
The range of burglar alarm systems available is extensive, and includes interior and exterior protection, as well as smoke detectors for added security and protection. After all, with early warning of fire, you are protecting not only your home, but also the live and health of your loved ones from the serious threat and danger that fire can create. For additional security, systems can include CCTV surveillance to allow you to more carefully monitor your property.
When you contact EDT Security, we will send our fully trained and qualified technicians to visit your home and provide a thorough inspection. They can discuss your particular requirements and offer you realistic advice regarding the best system to meet your precise security needs.
There are two primary types of burglar alarm systems are unmonitored and monitored. If you understand the differences, it is easier to make an informed decision as to what will best suit your needs and concerns.
An unmonitored security system relies solely upon an audible alarm that will alert people in the vicinity that an intrusion has occurred and that the authorities should be notified.
However, a monitored system not only makes use of an audible alarm, but it also has the benefit of a monitoring company to alert the authorities. If the alarm is triggered, the monitoring company will attempt to contact you. If they are unable to, they will contact the relevant authorities on your behalf. This allows for a quicker response time by emergency services, keeping you and your property safer.
When considering employing the services of a company to install your burglar alarms in Skipton, it is well worth investigating the cost of a specific maintenance contract. Such contracts should always include a basic annual check of the equipment and additionally, some might offer the benefit of a complimentary number of callouts included within your plan or a reduction in the cost of repairs and labour should your alarm in the future develop any faults.