Why choose edt?
Free initial consultation and design service
Expert advice from experienced edt Security specialists
Professional installation from highly trained engineers
24 hour help desk support and emergency call out
Comprehensive maintenance and warranty contracts
Welcome to edt Security Solutions
We Design, Install, Maintain and Upgrade Intruder alarm, CCTV and Access control systems in Domestic and Commercial premises across the North of England.
To make sure you get the right security system for your needs, and not a one size fits all package email us or call 01274 551520 now to arrange your FREE, NO OBLIGATION SECURITY SURVEY.
Alarms Ilkley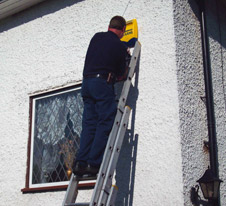 If you are lucky, you will never have to deal with the trauma of burglary. Yet this issue will affect most people at some point in their life. One way to take precautionary steps to avoid serious suffering is by installing a burglar alarm. Fortunately, when you are looking for the best alarms Ilkley has to protect you, you can turn to EDT Security Solutions.
Whether you are looking for security alarms for your home or office, there are many reasons why it is important to be proactive in protecting your family, employees and premises. Like most forms of insurance, it can seem unnecessary when it's not needed, but it can be a major relief when it is needed.
Here at EDT, we provide a range of alarm systems for both domestic and commercial properties throughout the North of England. By combining our expertise and knowledge to help you find the right level of security and protection that you require, you can sleep at night, safe in the knowledge that your property is protected.
Your home will undoubtedly be the most expensive investment that you ever make and as such, it is hardly surprising that you will want to keep it safe. As such, it can sometimes be worrying to leave your home empty and vulnerable to thieves who won't care what value your possessions hold to you personally ? be it monetary or emotional
By installing a reliable alarm system, at best you will deter burglars by the presence of the system alone and at worst, you will at least rapidly reduce the amount of time that an intruder will remain within your property, thus ensuring the least risk to your possessions or that of your loved ones.
Commercial properties will quite often be more vulnerable since they will sit empty at night and selecting the best systems and alarms Ilkley has available is essential. Whilst the security of your premises will be of utmost importance, so will that of your employees, particularly if they work during quieter periods where security options may be limited.
Additionally, expensive equipment and goods must be protected in order that your business runs smoothly and you are able to meet your customer demands. EDT Security offer comprehensive protection for both your property and employees with integrated CCTV, security lighting and customised options to ensure that no weak or vulnerable areas are left exposed
EDT Security Solutions provide a free, no-obligation security survey, whereby one of our fully trained staff will visit your property and discuss any specific requirements or concerns that you may have. In this way, you can be assured that you are definitely installing the best system for the job and that no stone has been left unturned in terms of protecting your property properly.
When it comes time to install the system, we will work with you to find a time that is most convenient for you, even working after hours and on weekends to avoid inconvenient interruptions in your regular schedule. One of our highly trained engineers will install the customised alarms, making use of wired and wireless systems as needed.
Along with the best alarms Ilkley has to offer, you receive 24-hour help-desk support and emergency call out service to respond to any concerns. Your alarm system also comes with comprehensive maintenance and warranty contracts so that any malfunction can be quickly repaired. With EDT Security Solutions, you receive personalised design and attentive care, coupled with experience and legal expertise, to provide full support for all of your security needs.