Why choose edt?
Free initial consultation and design service
Expert advice from experienced edt Security specialists
Professional installation from highly trained engineers
24 hour help desk support and emergency call out
Comprehensive maintenance and warranty contracts
Welcome to edt Security Solutions
We Design, Install, Maintain and Upgrade Intruder alarm, CCTV and Access control systems in Domestic and Commercial premises across the North of England.
To make sure you get the right security system for your needs, and not a one size fits all package email us or call 01274 551520 now to arrange your FREE, NO OBLIGATION SECURITY SURVEY.
Alarms Bingley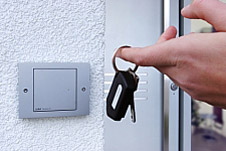 If you are fortunate, you might never have to deal with the personal trauma of burglary, but can you afford to take the risk? Security alarm systems can be purchased and installed at a minimal cost and they are an excellent way to protect your property from the risk of burglary. EDT Security Solutions provide some of the most up-to-date alarms Bingley has available to ensure that your property is protected to the best of your ability.
Regardless of whether you are looking for a security alarm system for your home or office, EDT Security can tailor-make a system to suit your specific building or requirements. Security alarm systems are in many respects a form of insurance and there is no doubt that they decrease the likelihood of a break-in by their presence alone.
EDT Security Solutions provide a vast range of security systems aimed at both domestic and commercial premises. By combining our expertise and wealth of knowledge, we can help to advise you and design a specific security system to protect your property to the best of your ability.
A man's home is his castle and it is unsurprising that homeowners want to do everything within their ability to keep both it and their possessions safe. Whilst house contents might not always hold financial value, they will almost always hold emotional value.
Thus, it is important to equip your home with multiple types of alarms. Burglar alarms will protect your family and your belongings, making the most of the ability to alert the police, while also potentially scaring away intruders.
Commercial properties need the best alarms Bingley has to offer. Employees must be kept safe, especially if they work into the evening when there is less security available. Additionally, expensive equipment, materials, and goods must be protected, in order to keep your business running smoothly and to meet customer demands. Goods lost due to robbery can have a serious impact on a company's success, as well as worker morale.
Fortunately, we offer specialised security systems, whether you have a shop, warehouse, or office to protect. Our alarms can be integrated with CCTV cameras to provide comprehensive protection for your employees and property. As well as the cameras and alarms, we offer security lighting and customised setups to ensure there are no weak points left exposed.
Whether you are looking for domestic or commercial alarm systems, at EDT Security Solutions, we offer a free, no-obligation security survey. One of our experts will give your property a detailed examination and discuss your specific concerns in order to design the right security system for your needs, ensuring that it is helpful and not a hindrance.
EDT Security install alarm systems at a time to suit our particular customers and understand that an installation outside of business hours is likely to be preferable so that no valuable work time is lost. Likewise, we appreciate that many customers will not want strangers in their home when they are absent and as such, all of our engineers work around the clock to include evenings and weekends to ensure the most appropriate installation time to suit your particular requirements.
Here at EDT, you will receive and benefit from our 24-hour customer support and emergency call out service and have the option to make use of our comprehensive maintenance and warranty contracts, to ensure that any malfunctions and alarm failures are dealt with at the utmost urgency and guarantee that you are the proud owner of one of the best alarms Bingley has available.