Why choose edt?
Free initial consultation and design service
Expert advice from experienced edt Security specialists
Professional installation from highly trained engineers
24 hour help desk support and emergency call out
Comprehensive maintenance and warranty contracts
Welcome to edt Security Solutions
We Design, Install, Maintain and Upgrade Intruder alarm, CCTV and Access control systems in Domestic and Commercial premises across the North of England.
To make sure you get the right security system for your needs, and not a one size fits all package email us or call 01274 551520 now to arrange your FREE, NO OBLIGATION SECURITY SURVEY.
Alarms Baildon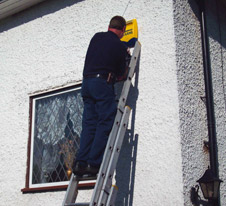 There is no question that being burgled is a traumatic experience that can leave a victim feeling insecure and vulnerable and whilst you cannot specifically prevent a thief from breaking in to your property, prevention is better than cure. By taking a few initial precautions, there is no doubt that you will substantially reduce the risk of burglary and EDT Security Solutions pride themselves on their provision of some of the most advanced alarms Baildon has at its disposal.
There are numerous reasons to consider a security system, regardless of whether you wish to protect your home or workplace and by installing a decent alarm, you will not only protect your property and contents, but also your family or employees. Whilst an alarm system might initially seem unnecessary, for very little expense it could save you a fortune in the long run.
EDT Security Solutions provide a vast range of security systems aimed at both domestic and commercial premises. By combining our expertise and wealth of knowledge, we can help to advise you and design a specific security system to protect your property to the best of your ability.
Your home will undoubtedly be the most expensive investment that you ever make and as such, it is hardly surprising that you will want to keep it safe. As such, it can sometimes be worrying to leave your home empty and vulnerable to thieves who won't care what value your possessions hold to you personally ? be it monetary or emotional.
Criminals will almost certainly avoid a property that has a security system installed in preference to one that doesn't, since it only makes sense that they will opt for a lesser-secured property that doesn't carry the same risk. As such, the mere presence alone of a security system might mean the difference between being burgled or not.
Commercial properties will quite often be more vulnerable since they will sit empty at night and selecting the best systems and alarms Baildon has available is essential. Whilst the security of your premises will be of utmost importance, so will that of your employees, particularly if they work during quieter periods where security options may be limited.
Additionally, expensive equipment and goods must be protected in order that your business runs smoothly and you are able to meet your customer demands. EDT Security offer comprehensive protection for both your property and employees with integrated CCTV, security lighting and customised options to ensure that no weak or vulnerable areas are left exposed.
Regardless of whether you are looking for domestic or commercial alarm systems, here at EDT, we offer a free, no-obligation security survey so that one of our fully trained experts can assess your property and needs in detail. They will discuss your specific concerns and ensure that you have the best possible security system to meet your particular requirements.
Here at EDT, we appreciate and understand that your time is valuable and will liase with you regarding the most appropriate installation time to suit your specific needs. Our fully trained engineers work around the clock to ensure that you, as our valued customer, receive the best possible time-slot to suit you - even if this should be an evening or a weekend.
EDT Security provides the added benefit of a 24-hour customer support service with an emergency call out option if required. Your new security system will come with a comprehensive maintenance and warranty contract to ensure that any faults are dealt with as the utmost urgency. Because EDT provide a specifically designed system, combined with a wealth of experience and legal expertise, we can with confidence guarantee that we offer some of the finest alarms Baildon has at its disposal.