Why choose edt?
Free initial consultation and design service
Expert advice from experienced edt Security specialists
Professional installation from highly trained engineers
24 hour help desk support and emergency call out
Comprehensive maintenance and warranty contracts
Welcome to edt Security Solutions
We Design, Install, Maintain and Upgrade Intruder alarm, CCTV and Access control systems in Domestic and Commercial premises across the North of England.
To make sure you get the right security system for your needs, and not a one size fits all package email us or call 01274 551520 now to arrange your FREE, NO OBLIGATION SECURITY SURVEY.
Alarms In Allwoodley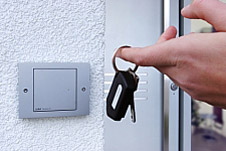 No two properties are the same and regardless of whether you require a security alarm for your business or home, you will have your own personal needs and requirements. If a system does not work as desired or is too complex to use, the chances are you won't bother - thus negating the whole point of having an alarm installed in the first place. Not only will you have wasted your hard earned money on installation costs, but also you and your property will remain at risk.
If you are searching for personalised alarms in Allwoodley, here at EDT Security Solutions, we pride ourselves on our specifically designed, personalised alarm systems for both domestic and commercial use. From simple audio alarms to high-tech CCTV monitoring systems, we can advise and design the most appropriate system for your specific requirements.
In the first instance, one of our fully trained members of staff will pay you a free, no-obligation visit to your home or workplace to discuss any particular desires or concerns that you may have. They will carefully assess your premises and detail any potential risk areas, thus ensuring nothing is omitted. They will then discuss with you the various options and advise you on likely costs and the most appropriate system for your property.
EDT Security offer a vast selection of theft deterrents, ranging from security lighting and motion sensors, to CCTV monitoring and recording options for both domestic and commercial use. Of particular interest could be the time-lapse feature that can be saved to disk, multi-image continuous monitoring and recording and even the option to view your property and keep an eye on it over the Internet whilst you are away from it.
Your home is your castle and it is understandable that you will want to protect it to the best of your ability. You will also want it to look its best and the idea of obvious and unsightly wires can be enough to dissuade some homeowners from purchasing security alarm systems. It is worth noting however, that there are numerous excellent wireless systems currently available on the market that are just as effective and trustworthy as the wired versions.
Alarm systems can be altered or added to at any stage and whether the system you choose is wired or wireless, new features can be added to the current system at any time in the future. Additional features available include smoke and heat detectors for the early warning and prevention of fire, one-touch operation and even notifications that will be sent to your mobile phone if the alarm is activated in your absence.
EDT Security Solutions have installed alarms in Allwoodley and throughout the North of England since 2005. We pride ourselves on our standards of customer care and our fully trained and skilled engineers perform security installations at a time that is convenient to each individual customer, even if this is after work or during a weekend.
Customers of EDT can rest assured that our customer service extends well beyond the installation stage and we offer 24-hour customer support and in the circumstances that we are unable to contact the property owner or registered keyholder, even handle emergency call outs on your behalf. In addition, we provide comprehensive maintenance and warranty contracts to ensure that your system is well maintained and fully functioning at all times.
There is no question that security alarm systems provide peace of mind, whilst protecting your loved ones, employees and property and the potential rewards are endless. In most circumstances, for example, insurance companies will offer a substantial discount on your annual premium if you have a reputable security system installed
Whether you seek a reputable installer of alarms in Allwoodley for a small domestic property or a large commercial building, EDT Security Solutions can create the perfect security system to suit your specific requirements. Our highly skilled engineers are fully trained with in depth and up-to-date knowledge of the latest legislation, to ensure that your system fully conforms to any new regulations and insurance requirements.