Why choose edt?
Free initial consultation and design service
Expert advice from experienced edt Security specialists
Professional installation from highly trained engineers
24 hour help desk support and emergency call out
Comprehensive maintenance and warranty contracts
Welcome to edt Security Solutions
We Design, Install, Maintain and Upgrade Intruder alarm, CCTV and Access control systems in Domestic and Commercial premises across the North of England.
To make sure you get the right security system for your needs, and not a one size fits all package email us or call 01274 551520 now to arrange your FREE, NO OBLIGATION SECURITY SURVEY.
Alarms In Adel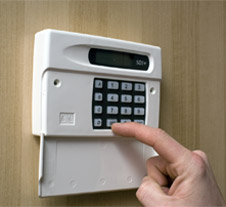 Every home and business has its own special security needs. Yet too often it may seem like security companies are offering the same cookie-cutter systems for everyone. If a system is too difficult to use or causes too many inconveniences, it is less likely to be used, simply becoming a waste of money, while you and your property remain at risk.
Fortunately, if you are looking for personalised alarms in Adel, EDT Security Solutions can meet all of your security needs. We pride ourselves on offering alarm systems for both domestic and commercial use, which are specially designed for your individual premises, rather than a one-size-fits-all security system. From high-tech cameras to simple audio alarms, we've got something for everyone.
Our first-rate service begins with a free, no-obligation visit by one of our trained staff. They will carefully tour your premises to take note of any potential weak spots, beyond the obvious doors and windows. They will then work with you to determine the appropriate security system for your property and your daily needs.
Our systems are made up of much more than simple burglar alarms. We offer security lighting and motion sensors to protect you and your property from a variety of hazards. We also have a number of security camera and recording options for both domestic and commercial use, including time-lapse that can be saved to hard disk, or multi-image continuous monitoring and recording.
Our security systems are available in wired and wireless designs. We can use them individually or use a combination of both to best fit your property. Wireless systems are popular because they feature no obvious and unsightly wires. They are secure and trustworthy and won't be interfered with by mobile phones, wireless broadband or other radio frequencies.
Our wireless systems are also convenient for listed buildings that cannot have walls interfered with or interiors where cabling would be unattractive. If your needs change down the line, our wireless systems can easily adapt, with new features added on to the system. Additional features that we offer include fire detection,
Since 2005, we have installed alarms in Adel and all across the North of England. If you choose our service, you will receive skilled installation performed by a highly trained engineer. We know how valuable your time is, so we are more than happy to perform the installation at a time that is convenient for you, be it after work on even on the weekend.
Our service doesn't end at installation. When you choose EDT Security Solutions, you can count on 24-hour help-desk support and take comfort in emergency call outs. Furthermore, we offer comprehensive maintenance and warranty contracts, so that your system will remain in top working order. After all, a security system that is not functioning properly is of little use.
Whether you are protecting your home or your business, a full security system can give you peace of mind, while protecting your loved ones, employees, and property. As well as the insurance it provides against loss, you may even reap a financial gain by installing an alarm system. Your home or business insurance costs may be reduced with the addition of a well-designed security plan.
If you are looking to install alarms in Adel or anywhere in the North of England, give us the opportunity to show you how our unique system designs, ongoing service, and full understanding of legislation can keep your property safe. From small homes to large warehouses, we can create the perfect security system to suit your specific needs.